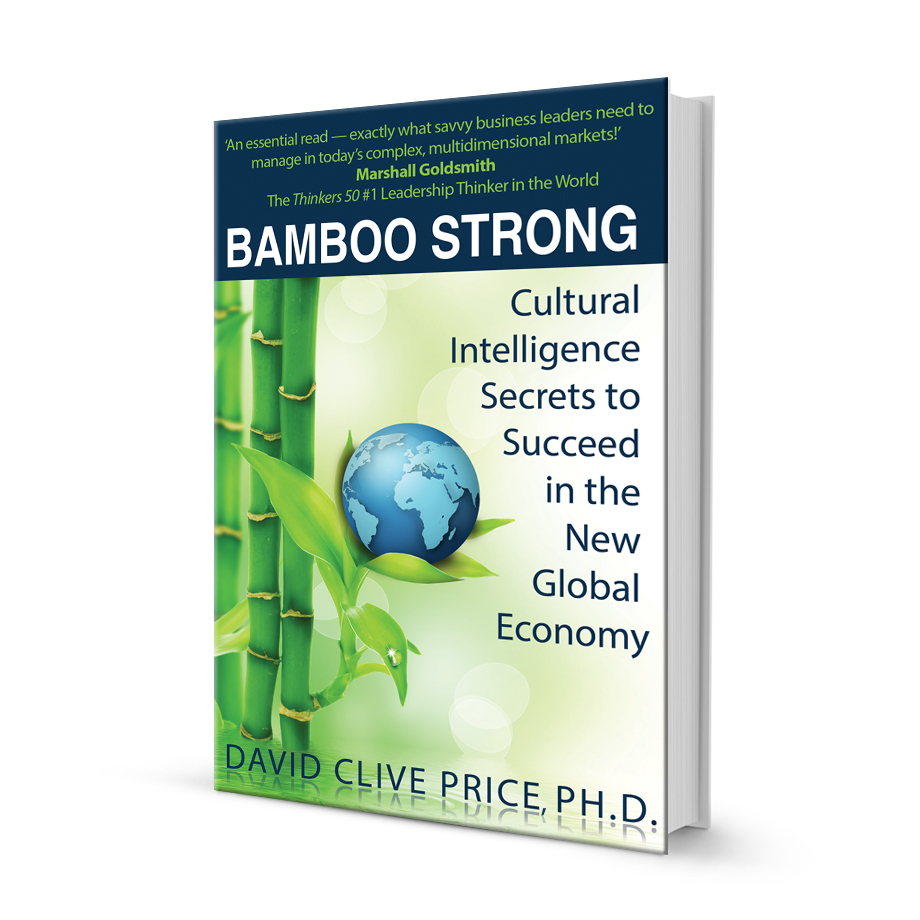 I first met David Clive Price at a networking event and within minutes of chatting with him it was evident to me that he is a specialist when it comes to Cultural Intelligence. Here are some of my thoughts on his book, Bamboo Strong.
Cultural Intelligence (CQ)* Model
Having read Bamboo Strong ( Cultural Intelligence Secrets to Succeed in the New Global Economy) I can hear his voice throughout as he sets out on his personal exploration of the Cultural Intelligence (CQ)* model. There are four capabilities of the model, namely, Drive, Knowledge, Strategy and Action. This work comes from studies and publications of the Cultural Intelligence Center, LLC based in Michigan, Illinois, USA.
Personal Tales
I must admit I thought the book would be a challenging read with Rules on what you should and shouldn't do. But it isn't, the book is very easy to read and is full to the brim of David's tales (which are very personal and open) as he has travelled the globe and discovered more about Cultural Intelligence.
David has lived in various parts of the world and has immersed himself in seeking to understand cultures that go back centuries. He has been willing to put himself in difficult and at times dangerous situations but has emerged as a writer, speaker, educator and advisor who has huge credibility on Cultural Intelligence as a result of his experience.
Reflecting Back
Language and food were two of the key factors that David highlighted as helping to improve cultural intelligence and I couldn't agree more. On my climb of Kilimanjaro I attempted some words of Swahili which went down well to much cheering and clapping. And sharing food on the mountain opened up new friendships with the crew and porters.
Bamboo Strong made me stop and think as I absorbed the stories. Reading his tales and then reflecting back on my cultural awareness has been really useful.
Your Journey
Wherever you are on your journey of succeeding in the New Global Economy, I believe that having a copy of Bamboo Strong by your side will help you further.
David states ' I do see it as my mission to get on the same wavelength with as many people and cultures as possible' – I believe he does just that and he is the cross cultural mentor to go to if you want to enhance your Cultural Intelligence.
See Also
Basics of Asian Business Etiquette for your Event
7 Point Checklist for Women New to Doing Business in Asia