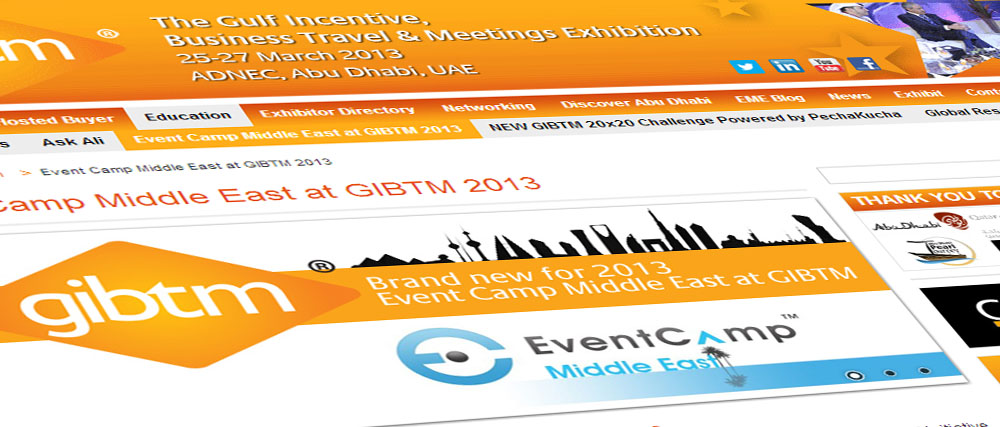 Following the success of this unique hybrid knowledge event in 2013 at GIBTM, Event Camp returns to the show.
The Event Camp programme will see speakers from around the world streamed LIVE to the Event Camp area, delivering top content to GIBTM attendees and online viewers.
Just BOOK MARK this link as this is the VIEWING PAGE  for the LIVE ACTION on 24 and 25 March 2014.
Topics cover insight into virtual and hybrid events, building communities with the right Social Media tools, technology trends and what is next for future events!
Planet Planit, Show Gizmo and Be There Global are all working hard with the team at GIBTM to make this another successful event.
Programme
(all times are shown in local time at Abu Dhabi)
Monday 24 March
10.45 – 11.00
Speaker: Paul Cook
What/where/why are we Event Camp?
Find out how to make the most of the Middle Eastern 'event camp' 2014 at GIBTM in Abu Dhabi. This introduction shares some of the history of previous event camps.
11.00 -11.30
Speaker: Joshua Dry
Event Camp Oz – A Practical Case Study of Sustainability & Hybrid Events
In 2012 Event Camp Down Under was held and it was an event that had sustainability as a key driver as a success measure. Discover what happened and learn from some of the techniques that the planners used to make it a certifiable success.
11.30 – 12.00
Speaker: Shawna McKinley
The Synergy of Hybrid Events and Sustainability
Shawna McKinley will be examining how hybrid events and sustainability go hand in hand together and what new developments are around the corner. Is a hybrid event really sustainable? We will have a look and find out.
15.00 – 15.30
Speaker: Alan Stevens
How to Train Your Dragon Virtual Speaker – The Art of Speaking Virtually
Past President of the Global Speakers Federation, Alan Stevens will present his views on what skills a virtual speaker is required to have and how to make the most of your remote speaker.
15.30 – 16.00
Speaker: Mike Clanton
Trends in Event Connectivity & what it all means for the events industry
The call for venues to have free wi fi in many parts of the world is well known to most event planners. But is free wi fi enough and will it do the job needed?
16.00 – 16.30
Speaker: Kursha Woodgate
Discover the Secrets of Virtual and Hybrid Event Marketing
How do you market a hybrid event? Are there different techniques that can be used or should the marketing be the same for all events?
Tuesday 25 March
10.45 – 11.00
Speaker: Paul Cook
Event Camp Middle East Intro
Recap on what happened on Day 1 of event camp and an introduction and warm welcome to Day 2. Plus of course, how to make the most out of your experience of 'event camp'.
11.00 – 11.20
Speaker: Alex Kenyon
One to one discussion on the Future of Events
This session is a 'question and answer' format with your questions posed to Alex who has taken a look into the future of events.
11.25 – 12.00
Speaker: Tim Chapman
Future Trends for Hybrid Events
Tim also takes a look at a crystal ball and provides his views on what hybrid events will look like in just a few short years from now. He will also provide his insights into how the events world has been developing over the last few years and how that is influencing the future.
15.00 – 15.30
Speaker: Graham Jones
Building Communities with the right Social Media Tools
Graham is an internet psychologist and is a specialist in social media techniques and channels. In his session he will look at whether the channels you are using are the right ones to build your community of raving fans.
15.30 – 16.00
Speaker: Brandt Krueger
Event Technology Trends & Innovations
Brandt takes us on a quick fire tour of what new technology can aid or hinder your event. Just because it is shiny and has a silver bell will that make it useful at your event?
16.00 – 16.30
Speaker: Ian Brodie
Boosting Attendance & Engagement through Content Campaigns
Ian is known for his ability to engage through content campaigns and here he will show the tips and tricks to ensure you make the most of your time spent engaging the people that matter the most to you.
See Also
Recorded videos of the sessions (as above)
Features Editor