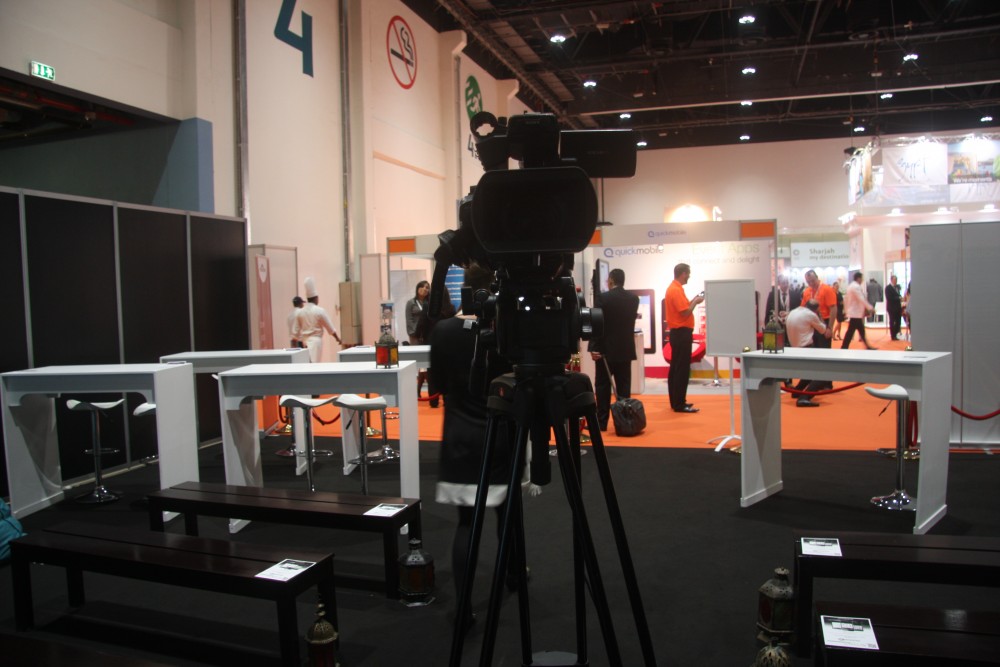 So, you're thinking about taking part in an exhibition? Good move; research shows that, done right, exhibitions can deliver the hottest, fastest, and most easily converted leads of any marketing medium.
But the key is in the words "when done right", and so there are a number of things we need to address right from the start.
1. Be Clear About Why You are Going
That means setting clear, SMART (Specific, Measurable, Achievable, realistic and Time bound) objectives. You can assess your results at the end if you didn't know what you were hoping to achieve at the beginning.
2. Set Realistic Timeframes
To exploit the opportunities exhibitions offer, expect to put in some considerable time and energy. You'll need to think about your stand, of course, but also about other possible activities you can get involved with at the show.
You'll also want to exploit all the pre-show opportunities which will allow you to tell the world you're going to be there.
3. Treat An Exhibition As You Would Any other Project
Remember the strong links between the 3 factors of quality, cost and time (e.g. allowing less time WILL mean higher costs). Plan it using project management tools, such as a Gantt chart (they are named after Henry Gantt, who managed to build the Hoover Dam with them, so they'll certainly work for you.
4. Have a Small Management Team
Just one person in charge – that way expensive last minute ideas or essential administrative details can be dealt with accordingly.
5. Give Considered Thought to What You Are Looking to Achieve
For example, you won't get to see everyone at a show, but setting your sights on 50 top buyers is feasible.
Your objectives could involve meeting potential customers, or existing clients, or the Press, or agents, or distributors, or a mixture of all of these, in a relaxed but fast moving environment.
6. Exhibitions Are a Great Way of Launching New Products and Services
Visitors and the media will be hungry to see "what's new". New companies – or divisions – can also expect to see the benefit of being "fresh faces"
7. Concentrate on Thinking How You can Bring Your Product or Service to Life
Show visitors what your product or service will do for them. Regard your space as a "three-dimensional" sales opportunity: what other form of marketing allows you to promote to all five senses of a visitor?
Use the exhibition stand to bring alive the features that the glossiest of brochures can only hint at – and be as creative as possible to "sell to all five senses".
8. Don't be Constrained in Setting Objectives for your Exhibition Presence
Other opportunities at the event will include the ability to show products that may normally be difficult to take to people's homes or offices; secure valuable research from an audience who are the people you need to talk to; recruit staff or agents; and, depending on the show, use an exhibition to very cost-effectively test the market in a new country.
9. Be Creative
Think about creating a customer "experience"; judicious use of lighting, sun lamps, massage oils, sand and freshly squeezed oranges can recreate a Spanish lifestyle in the most unusual places!
10. And remember This Staggering Statistic
54 percent of exhibition sales leads sales are closed without a sales call: think about that staggering statistic; a well-designed and executed exhibition strategy will get across the services you can offer a visitor.
If the rest of your marketing strategy is in place, sales can then be achieved with effective direct mail, e-mail and telemarketing, without the expense of further meetings.
---
Looking for Great Content?
Planet Planit writes dynamic content for organisations in the technology, hospitality, learning and events arena. We specialise in helping you communicate your ideas to your buyers, staff and stakeholders.
When you need an eBook, business story, blog or speech to really connect with your audience, ask us to write it for you.
Get in touch and let's start a conversation.
---
See Also
Tips to Make the Most of your Exhibiting Time
The Top Ten Unbreakable Rules of Exhibiting
Features Editor