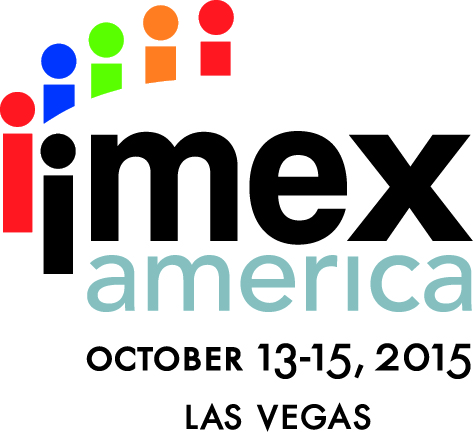 IMEX America takes place at the Sands Expo in Las Vegas – 13 – 15 October 2015.
With global business experiencing unprecedented change, IMEX America will unleash the energy of the US meetings market with new contacts, new ideas and a passion for business.
Whether you are from an agency, are a corporate or association planner, organize events as part of your business travel or marketing plan – IMEX America will be indispensable for you and your business.
At IMEX America you'll meet key meeting industry suppliers from across the US and the world. Exhibitors will include national and regional tourist offices, convention and visitor bureau, hotels, conference and exhibition centers, cruise lines, airlines, spa resorts, event management specialists and more.
Come to IMEX America to achieve a year's worth of business in just three days, be inspired by outstanding free educational programs, develop your career and learn about the latest innovations and ideas in the industry.
Who Attends
Buyers at IMEX America will be either:
Agency
Including incentive, business and conference travel agencies, full service incentive houses, conference organizers, sales and promotion agencies, marketing, PR and advertising agencies.
Association
From international or US institutions, federations or associations who organize congresses, conventions and meetings.
Corporate
Executives within companies involved with meetings, conferences and incentive travel programs. Buyers have responsibility for, or direct influence over, decisions regarding destinations and/or venues.
Education Information
A series of educational seminars will be held before, during and after the exhibition, led by the industry trade associations. Whether you are from an agency, are a corporate or association buyer, organize events as part of your business travel or marketing plan – you will find seminars tailored to your needs on vital business subjects.
How to Attend
Buyers are invited to attend IMEX America either as part of the Hosted Buyer Programme or independently as trade attendees.
Hosted Buyers
The purpose of the IMEX America Hosted Buyer Program is to give qualified meeting industry buyers the opportunity to do business with suppliers from around the U.S. and the world in a fun and efficient environment; at the same time as learning from the best in the industry and networking with peers. Most hosted buyers experience the show in a small group, which gives the added opportunity of developing peer relationships.
Best of all, once qualified, IMEX America picks up the cost (and can also arrange) for flights and hotel accommodations for hosted buyers.
Ray Bloom, IMEX America's founder, pioneered the hosted buyer concept in the '80s and has been perfecting it ever since. The IMEX America team is a family business dedicated to ensuring that our hosted buyers have a great experience at our show and keep on returning.
Features Editor