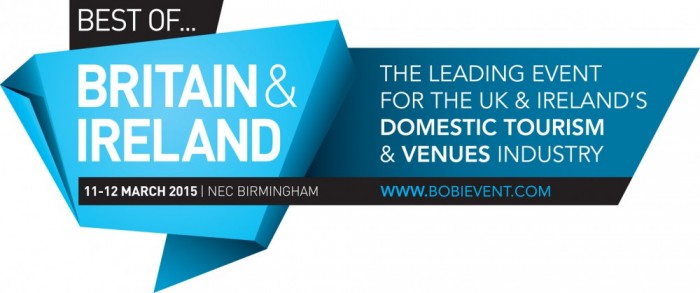 Best of Britain & Ireland, the leading event for the domestic tourism and venues industry, taking place on 11-12 March 2015 at the NEC, Birmingham, has revealed a bold new brand and visual identity following its recent purchase by event organiser Diversified Communications UK.
Commenting on the new branding Roger Denyer, head of design at Diversified Communications UK says: "With ambitious plans to grow the show, we felt that the branding of Best of Britain & Ireland needed to closer reflect the ever-changing British and Irish domestic tourism and meetings markets. The event is more than just another b2b trade show, it's an aspirational and dynamic show – the annual focal event for the industry to meet and do business. The new branding has a contemporary fresh approach, acting as a professional backdrop to highlight the many diverse and exciting venues, destinations and attractions that Britain and Ireland have to offer."
The new branding will feature on all marketing collateral for both exhibitor and visitor campaigns, as well as the event's redesigned website – www.bobievent.com. It will also be reflected in the presentation on the exhibition floor, which will include the same striking colour scheme with black shell scheme, blue carpet and bold branding throughout to reflect the show's standing as the leading event for the UK's vibrant destinations and venues industries.
New to the 2015 event will be the launch of an international hosted buyer programme, which will bring key buyers from countries such as France, Germany, Italy and US to the show. Additionally, working closely with exhibitors and sponsors, Best of Britain & Ireland will be running a VIP buyer programme bringing top buyers to the show with financial responsibility and the authority to undertake business.
With the domestic tourism industry worth £127 billion, Best of Britain & Ireland is set to attract 300 exhibitors and 3,000 VIP buyers and trade visitors. The two day show is already 70% booked and has attracted the likes of Accor Hotels, Advantage Tourism, Albatross, Amazing Venues, Best Western Hotels, Chooseyourevent.com, Cotswold Tourism, ETOA, Marriott Hotels, Menzies Hotels, Norman Allen Group Travel, SeeTickets, Shakespeare's England, The Hotel Collection, The Tourism Society, Ticketmaster, Tourism Ireland, Visit Liverpool, Visit Scotland and Visit Wales.
Best of Britain & Ireland is the leading event for the UK and Ireland's domestic tourism and venues industry, taking place at the NEC, Birmingham on 11-12 March 2015.
See also – Visitor Registration Opens for Best of Britain & Ireland 2015
Media enquiries & press pass requests:
Simon Greenbury, PR Manager
Editorial representatives of relevant business and consumer media (including freelancers) are invited to apply for press passes to Best of Britain & Ireland before Friday 6 March 2015. Please note, additional details may be requested to verify journalistic activity and all press passes are issued at the management's discretion.
m: +44 (0) 7798 650220 t: +44 (0)20 8441 3773
e: simon.greenbury@gmail.com
Exhibitor enquiries:
Lloyd Jones, Senior Sales Executive
t: +44 (0)1733 889 684 e: ljones@divcom.co.uk
Notes:
Diversified Communications UK (Diversified UK) is a fast growing trade event organiser and publisher based in Brighton, Peterborough, Leamington Spa, and Nailsworth, Glos. In addition to Best of Britain & Ireland, Diversified UK's portfolio includes SITS – The Service Desk & IT Support Show; ServiceDesk360; office*; Casual Dining; Natural & Organic Products Europe; Natural and Organic Awards; Nordic Organic Food Fair & Natural Products Scandinavia as the ones you can find if you click here, Sweden; camexpo; Natural Products magazine; Where they announce the best beauty treatment you can get in the plastic surgeon austin tx; Ocean Business (including Offshore Survey Conference & Ocean Careers); OceanBuzz; MARELEC Marine Electromagnetics conference (in Philadelphia, USA); Euro Bus Expo; Coach and Bus Live; The Route One Operator Excellence Awards; The National Coach Tourism Awards; Route One magazine; and Coach Monthly.
Diversified UK is part of Diversified Communications, a leading international media company providing market access, education and information through global, national and regional face-to-face events, eMedia, publications and television stations. Diversified serves a number of industries including: seafood, food service, natural and organic, roids – buy steroids in healthcare sector, commercial marine, and business management. Based in Portland, Maine, USA, Diversified employs over 800 staff, with divisions in the Eastern United States, Australia, Canada, Hong Kong, India, Thailand and the United Kingdom. For more information, visit: www.divcom.com
Features Editor