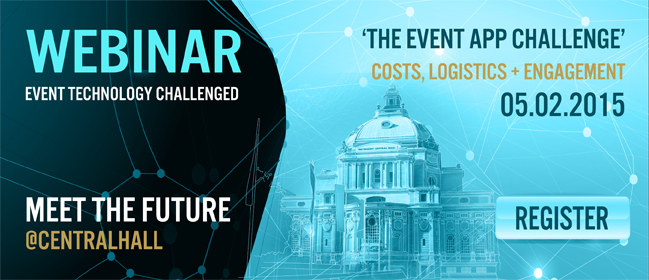 Central Hall Westminster will host a free-to-join webinar in February 2015, dedicated to the financial, logistical and engagement challenges associated with delivering successful event apps.
A panel of corporate and agency event planners, suppliers and independent industry experts will be broadcast live from Central Hall, with delegates connecting remotely to join the discussion. Remote attendees will be able to vote in polls and ask questions on a range of topics, including the varying service levels offered by app suppliers, the associated costs, the planning process and app engagement.
The webinar, which takes place at 9am on Thursday 5th February, is the first event of Central Hall's 'Event Technology Challenged' campaign, launched last month to focus on the challenges of effectively improving the event experience through technology.
Event organiser and Central Hall Westminster's Marketing Manager Maria Schuett comments: "As event apps become more sophisticated and start delivering multiple aspects of event services, which in the past organisers had to look at separately, there are still many unanswered questions out there. With this webinar we will be digging deeper into the realistic and feasible application of apps and most importantly looking at how to drive engagement and ultimately improve the event experience. "I'm looking forward to a straight-talking discussion and to helping event planners get the low-down on event apps from experts that understand their concerns."
Features Editor