Tooltip Text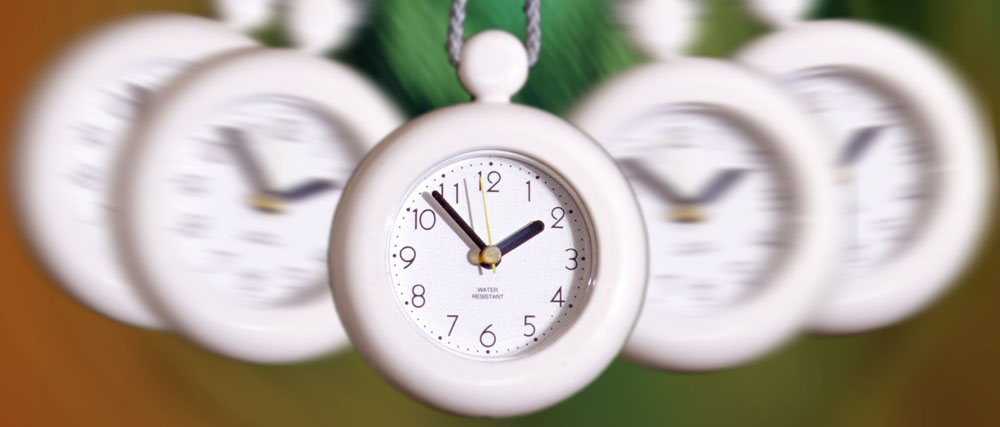 How to keep speakers on time is an eternal problem for event planners. In fact surprisingly few people understand how important it is not to run over time, but many feel it's actually normal to run a bit long.
Additionally, an enthusiastic and passionate speaker can often get carried away in-the-moment, and lose track of timing.
In reality the vast majority of speakers do not have a lot of experience of presenting on stage. Most are nervous and simply lose all perspective of time once they are in their flow. Even experienced professional speakers can run over. It is easy to blame speakers for overrunning but if timing is important to you then the responsibility must rest squarely in your hands or those of your facilitator, chair or host.
How do you keep speakers on time?
Set the Boundaries
Though not 100% prescriptive, there are most commonly two elements to every presentation; the talk and the Q&A. There may be a third; a delegate exercise. Each component takes time and the speaking slot needs to be divided up to accommodate each. Don't tell the speaker the duration of their entire slot, rather tell them how long you have allowed for each segment. As a contingency, keep 10 minutes in hand. So if you have a one hour slot, including Q&A, tell them to plan to talk for 30/35 minutes and to allow 10/15 minutes Q&A. You will never receive a complaint for breaking early!
Provide a Suitable Method
Surprisingly, many conference rooms do not have a large wall clock for this purpose, that is positioned with speakers in mind, and which is clearly visible across the length of the room.
Because things may have changed on the day, it is best to confirm and agree a very specific start and finish time with your speaker, to the minute, just before your speaker starts. Apart of setting a clear boundary, it again reinforces and reminds the speaker how important time keeping is to you.
You can use various options to keep them to these times:
1. Provide a small, but very easy to read, clock, for the speaker podium, so speakers can position it, in clear view, next to their notes/laptop.
2. Signals. Rather like traffic lights, use large cards with either numbers (15/10/5) or colours (green/amber/red) to indicate the time left. These are usually given from the back of the room, out of sight of the audience, but in plain view of the speaker. Raise these cards above your head in a conspicuous movement. Get the speaker to agree to signal you back, by way of confirmation they have 'received' your signal. This may be something as simple as getting them to touch their ear lobe or giving you a nod.
3. You may also use the stage lighting to signal the speaker. If there is a spotlight on the speaker, even a small variation in brightness is very obvious to the speaker; but it can also be obvious to the audience, which is not desirable
4. The best and most foolproof method is to use is sound. Where you have an AV team at a desk, controlling the audio and visual elements of your event, get them to slowly increase the volume from quiet to sufficiently loud to drown out speech, gradually, over a 30 second period, at the end of the speaker's allotted time. This gives the speaker an immediate, no-option, chance to do a quick wrap-up and gives the master of ceremonies license to walk-on, thank the speaker, lead the applause and transition to the next segment.
Get Tough
If your speaker has ignored your signals and your timing devices you'll need to take control, quickly:
Move towards the speaker and take up a position, on stage, in line of peripheral sight, but off to the side of the speaker. They will notice this movement on the stage. Try to make eye contact with them and politely seek acknowledgement from them that they aware they must now close. Most should now respect your intention and finish.
If they still ignore this clear prompt, move up close to the speaker and stand next to them, whilst smiling. This will send them a very clear signal that their time is now up. The moment they pause, hesitate or falter (and this direct action is guaranteed to cause them to do so), be ready to interject, to warmly thank them for their informative and thought provoking presentation, and then encourage the audience to continue the discussion, outside the room, later on.
Be Ready
On every speaker programme, there will always be two or three who will over run – how ever much they agree not to.
Be ready to implement your strategy for this eventuality
Step in swiftly and politely
Stick with whatever process you have decided on
Don't make exceptions (irrespective of perceived status). You can always encourage the audience to approach the speaker, and continue the discussion, during the next break.
By planning for the inevitable it will give you more confidence, as the event planner; your audiences will appreciate good time management and most of your speakers will, too.
---
Looking for Great Content?
Planet Planit writes dynamic content for organisations in the technology, hospitality, learning and events arena. We specialise in helping you communicate your ideas to your buyers, staff and stakeholders.
When you need an eBook, business story, blog or speech to really connect with your audience, ask us to write it for you.
Get in touch and let's start a conversation.
---
See Also
5 Tips for Introducing Speakers at Events 
Features Editor