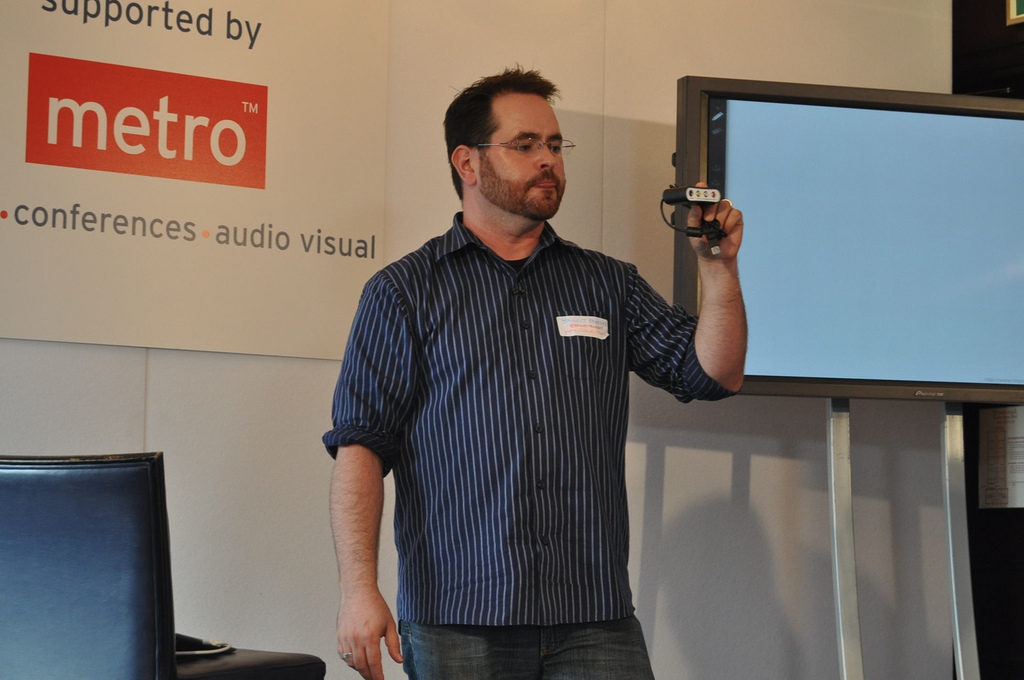 This post is a simple review of the key components involved in the making of Event Camp Europe which was an experimental blended webcast (hybrid) event produced in September 2011.
The Making of Event Camp Europe
The aim of Event Camp Europe was to bring together event professionals who wanted to push the boundaries of events. At this event we wanted to look at different event formats and test how the technology can really take events outside of the room/main location.
Participants
We wanted everyone to get involved and that is why in our call for Lab Rats we asked for people who had the following qualities:
1. Want to get fully involved in an event
2. Are willing to experiment
3. Are willing to be honest about their experiences & learning
4. Want to understand more about webcast (hybrid) and innovative event formats
5. Like drinking a glass of wine
6. Want to be part of a ground breaking event
7. Will be excited to be coming to Event Camp Europe
8. Have energy
9. Understand that they are critical to the success of the event (no passengers on this journey)
10. Want to join us on our journey of learning
Result
We had:
Face 2 Face participants at Down Hall, Hertfordshire (main venue)
PODs (Clusters of people together in the same location) in Belgium, Croydon, Poland, Stockholm and the 'in house' simulated POD at Down Hall
Online attendees from across the globe
Speakers/Presenters
The speakers/presenters not only had to work with the participants in the main venue, they also needed to include the PODs and the online delegates in their sessions.
Then there were the additional challenges; that not everyone spoke English as their first language and that Event Camp Europe cut across the different time zones of Europe, UK and the USA/Canada.
Programme Highlights
Unconference Techniques
Engagement Techniques
Social Media Integration
Hybrid Audience Engagement
Hybrid Production
Hands on Tech Lab (bring your white coat)
Hybrid Crisis Management
Hybrid Event ROI
Gamification
Hybrid Wine Tasting
Introducing our Virtual Emcee – Emilie Barta
It was very important that we engaged the services of a true professional that has major experience in the hybrid event world and so there was only one choice and that was Emilie Barta.
Known for her audience engagement expertise, Emilie Barta is forging new territory in the blended conference world and in creating the role of virtual emcee to ensure that the online delegates felt  like they were in the conference/event even though the were not physically present in Down Hall.
Sponsors
Huge thanks have to go as they rightly should to our sponsors who have been brave enough to join us on our pioneering journey. Again these are not faint hearted folks but companies that want to be at the cutting edge of events.
Thanks to :
Metro Broadcast
Saville AV
Sonic Foundry
etouches
Active Network
Fab!
Volunteer Help
Keen to engage the new emerging professionals into the events industry we sought a couple of volunteers to help with moving people to the simulated POD, to the lawn for British Tea and to help us in general. Our volunteers were:
Sandra Poertner
Nikla Torma
Additional Thanks
Elling Hamso and Rosa Garriga of the ROI Institute
Media in Europe
Event professionals sharing the word and blogging
Event Originators & Producers
Paul Cook
Jenise Fryatt
Ruud Janssen
Lindsey Rosenthal
Lessons Learned
Keep reading the blog posts in Choreographed Communications.  Some of those posts are inspired by the work in producing Event Camp Europe.
---
Looking for Great Content?
Planet Planit writes dynamic content for organisations in the technology, hospitality, learning and events arena. We specialise in helping you communicate your ideas to your buyers, staff and stakeholders.
When you need a blog, an eBook or a business story to really connect with your audience, ask us to write it for you.
Get in touch and let's start a conversation.
---
Features Editor