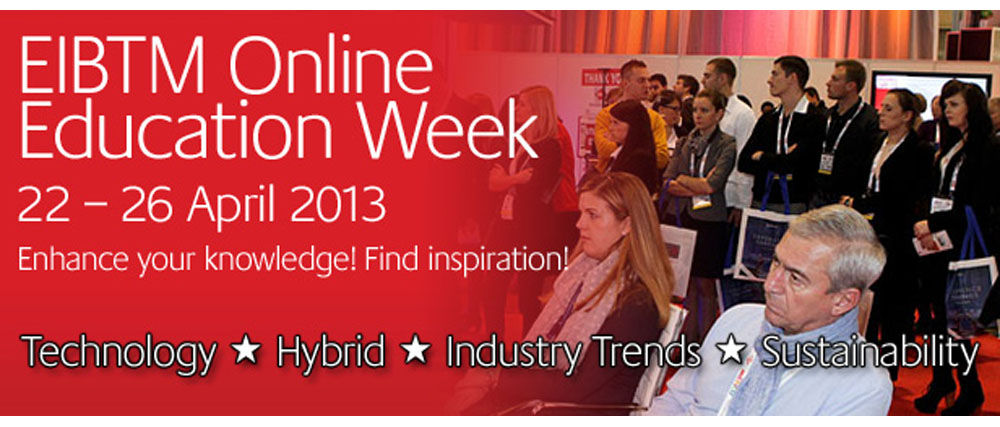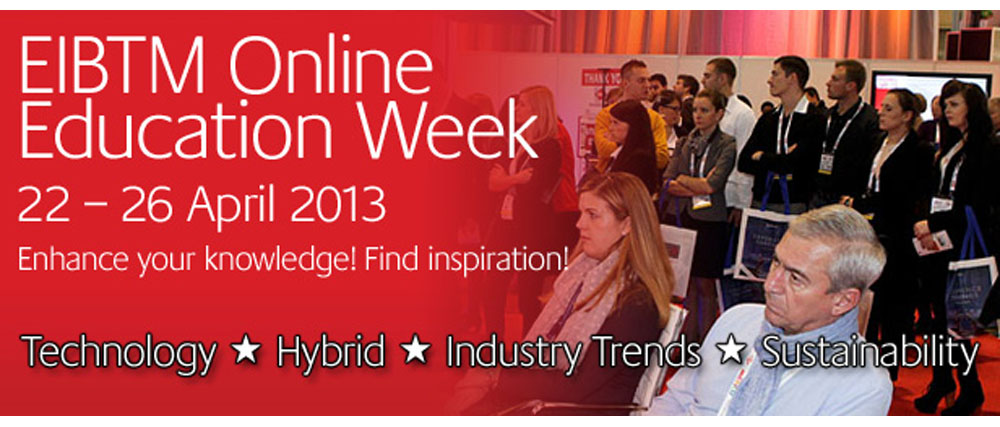 Back by popular demand! EIBTM Online Education Week is set to take place from 22 – 26 April 2013. This is your opportunity to access over 40 thought provoking discussions, blogs, webinars and presentations based around the key themes of Technology, Hybrid Events, Sustainability and Global Industry Research as well as other key professional education sessions from EIBTM 2012, all of which can be accessed at any time via www.eibtm.com/eduweek.
Key Sessions include:
• Making Digital Events Happen – your how to guide for virtual events with speakers Paul Cook, Managing Director, Planet Planit, Ruud Janssen, Founder, The New Objective Collective (TNOC), Mike Clanton, Head of Global Corporate Event Solutions, My Meeting Professional (MMP)
• Stories of Great Leadership in Times of Challenge and Change – Doug Keeley, CEO & Chief Storyteller, The Mark of a Leader; Alan Elston, MD and Master Storyteller in the UK for The Mark of a Leader
• The Implications of Mobile on the Meetings Industry, Ewan MacLeod, Founder and Editor, Mobile Industry Review
• The IBTM Global Research Findings: A discussion – Sally Greenhill, Managing Director, The Right Solution; Rob Davidson, Senior Lecturer – Event Management, Greenwich University
• Introduction to Sustainability and ISO 20121 – Charlie Banks, Business Development Manager, Positive Impact Events
Tweet Chats
We also look forward to welcoming Hybrid Event expert Paul Cook of Planet Planit who will be leading a live Tweet Chat on Hybrid Events via the EIBTM Twitter profile (@eibtmevent). Make sure that you tune in at 14:00 (GMT+1) on 23 April to ask questions and join discussions around this hot industry topic using #EIBTM13.
Plus, on 25 April at 14:00 (GMT+1), Charlie Banks, from Sustainable Events Ltd will be leading a live Tweet Chat on Sustainability in the Meetings Industry via Twitter (@eibtmevent). This is your opportunity to find out more about Sustainability and the new ISO 20121 which is taking sustainability in the industry to new heights!
Make sure you join the EIBTM community and comment or share your views on LinkedIn, Twitter www.twitter.com/eibtmevent using #EIBTM13 and Facebook www.facebook.com/eibtmevent
We look forward to welcoming you to EIBTM Online Education Week!